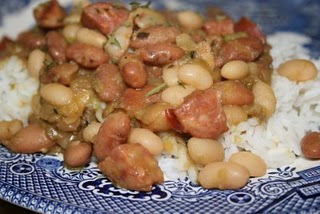 Sausage, Beans & Rice
From the Kitchen of  Deep South Dish
1 package Hayes Star Brand Bean Soup Mix
3 slices of bacon, chopped
2 links of smoked andouille sausage, quartered lengthwise and chopped into small pieces
1/2 of a medium onion, chopped
1 stalk of celery, chopped
2 cloves of garlic, minced
1 teaspoon of dried basil
10 turns of the pepper grinder
2 bay leaves
1 quart of chicken stock
2 pinches of kosher salt
Place the beans in a medium stockpot, cover with water and bring to a boil. Boil for 2 minutes, remove from heat, cover and let soak for 1-1/2 hours. Alternatively, you can cover the beans with water plus about another 2 inches and leave to soak overnight. Drain well and set aside.
Heat the stockpot over medium heat and add chopped bacon. Cook until softened. Add the chopped smoked sausage and cook until browned. Add the chopped onion and celery and continue cooking until softened. Add the garlic and cook for another minute or so. Stir in the basil, pepper and bay leaves. Return the beans to the pot. Stir well, add the chicken stock and mix in, bring to a boil, cover, reduce heat to simmer and simmer covered for 45 minutes to an hour. Check the beans to see if they have softened, add salt, adjust seasonings as needed.
Serve over hot rice.
Used with Permission – Courtesy of http://www.deepsouthdish.com